Your wedding day is one of the most important days of your life, so you want to look and feel your best. One way to do that is by choosing the perfect lipstick color for your big day.
There are a few things to consider when picking out a lipstick shade, such as your skin tone, hair color, and dress. But don't worry – we're here to help! Keep reading for our guide to the perfect lipstick colors for every kind of bride.
Which lipstick shade is best for the bride?
Finding the perfect lipstick color for your wedding day can seem daunting, but it doesn't have to be! There are so many shades and types of lipstick available today that there's a perfect color out there for every bride. So, whether you're looking for something soft and natural or bold and dramatic, we've got you covered.
Here are some of the best lipstick colors for brides:
Nude: A nude lipstick is perfect for brides who want a natural look. It'll give your lips a pretty pink tint and make them look fuller.
Red: A classic red lip is always glamourous and perfect for a bride who wants to make a statement on her big day.
Burgundy: Burgundy is a beautiful color for brides who want something a little different. It's dramatic and romantic and perfect for autumn weddings.
Peach: A peachy lipstick is perfect for brides who want a soft, natural look. It'll give your lips a subtle sheen and make them look healthy and glowing.
Pink: A pretty pink lipstick is perfect for brides who want a soft, feminine look. It'll add a touch of sweetness to your wedding day look.
What type of lipstick is most attractive for the wedding day?
Many different types of lipstick can be worn on a wedding day, but certain shades and formulas are more flattering and attractive than others. For a natural look, try a light pink or nude shade. If you want something more dramatic, go for a bolder color like red or plum. Lipsticks with a matte finish tend to be the most popular choice for weddings, as they provide long-lasting wear and a polished look. However, if you prefer a softer, more natural appearance, opt for lipgloss or sheer lipstick instead. Whichever type of lipstick you choose, make sure it is well-moisturized so your lips look healthy and hydrated all day long.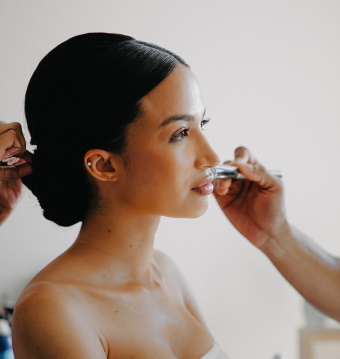 There are many different opinions on what type of look is best when it comes to wedding makeup. One important factor to consider is the type of lipstick you wear. While some brides prefer a natural look with light colors, others want a more bold and dramatic appearance with dark hues. So, what is the most attractive type of lipstick for a wedding day?
Here are three things to keep in mind when choosing your wedding day lipstick:
The color of your dress
The overall theme or style of your wedding
Your own personal preference!
If you're still unsure which color to choose, don't worry – there are plenty of options out there.